Getting a certification to gain specialization in a particular field is very well-known. These certifications grant knowledge and skills needed for ethical hacking. Nowadays, the ethical hacking market is quite popular and continuously growing. It's difficult to search for quality training courses among several choices. Therefore, we are bringing the benefits and the reasons why the ISCP certification is a better choice than others.


"Cybercrime is the greatest threat to every company in the world."
Ginni Rometty
-Former chairman and CEO, IBM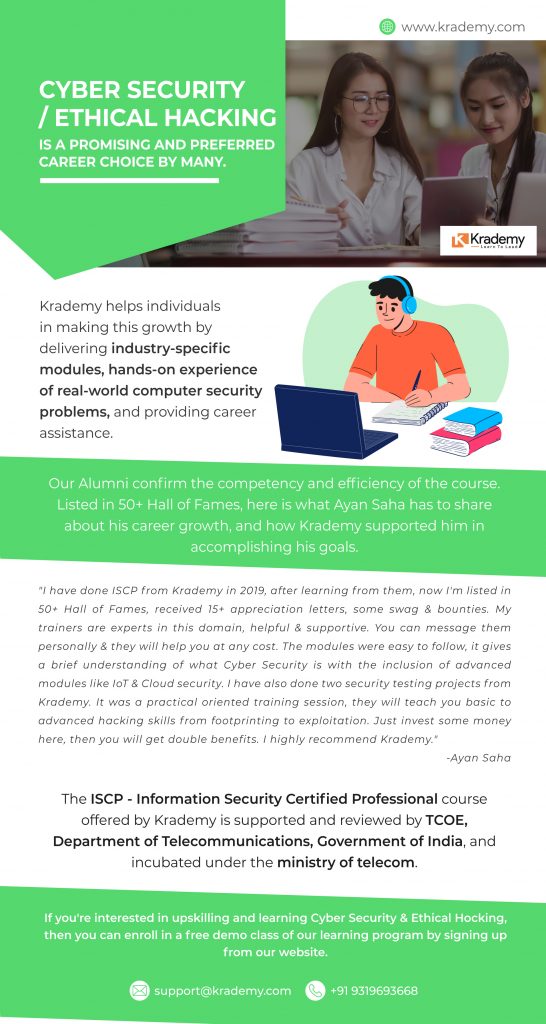 In this blog, you will get information regarding the leading cyber security certification, ISCP – Information Security Certified Professional. Also, why do organizations need ISCP certified ethical hackers?

ISCP Certification Is a Prominent Choice for IT Students

Ethical hackers are necessary to safeguard corporate computer systems and networks. An IT student studies computer networks and software, which automatically makes it an amazing career option for them. IT engineers are well-rounded in logical skills and programming languages. Hence ethical hacking is a better career option for them.

ISCP Certification is supported and reviewed by TCOE, Telecom Centers of Excellence, India. Hence this certification program will help to open up bright ethical hacking career options for IT students to the most reputed IT professional industries.
Ethical Hacker Job Roles in Organizations
The ethical hacking methodology remains the same up to a greater extent, only the job profile attached to the role they play varies. Consequently, some of the job roles that you can attain after pursuing ISCP certification are:

Information Security Analyst/Manager
Cyber Security Analyst
Ethical Hacker
Cyber Security Consultant
Penetration Tester
Cyber Security Manager
Whatever, the job profile you may get selected in, the basic necessity of an ethical hacker means being able to spot vulnerabilities in the system and exploiting them to secure the system for breach. In ISCP Certification training, students get the live project training that will provide them the practical training in the field.
See>> Top Cyber Security Certifications To Boost Your Career
How Can Hiring ISCP Certified Employees Benefit Your Organization?

Providing supreme services and customer satisfaction is a must for any organization.
According to IBM, in 2020, $3.86M was the aggregated average cost of a data breach. It requires years of practice and hard work to build customer trust and a data breach can break that trust instantly.
However, having ethical hackers and cyber security professionals in your organization will help to maintain the slowly built customer trust. A security expert can perform various several functions, some of which are:

Safeguarding the sensitive data in the organization.
Securing your business from data breaches and cyber-attacks.
Performing penetration testing operations to secure your digital assets.
Making your employees aware of cyber threats and preparing them for potential cyber-attacks.
To take adequate preventive measures and precautions to avoid any security breaches.
Testing networks for any breach and securing them.
In the End

Cyber security certified professionals are required to mitigate security risks and manage any damages. ISCP Certification practical training and live project develop the competencies needed to predict and respond to a cyber-crime.

Due to the recent global pandemic, several organizations have turned to digital solutions or planning to do so. Thus the cyber security cases are on the rise. According to IMC Grupo, the FBI reports showed a 300% rise in reported cybercrimes.

Companies are realizing the importance of cyber security and increasing their investment in it. Therefore, they require experts in this field, resulting in several job opportunities and requirements of skilled professionals and in this field.